25 Mar

Vitamin D and Eczema

Vitamin D otherwise known as the 'sunshine vitamin', is a hot commodity in skin care. It is named the 'sunshine vitamin' because our bodies can produce it when the skin is exposed to UV rays from the sun1. Despite this ready source, sun-screen, gloomy weather, pollution and indoor lifestyles can result in many people becoming deficient in this essential micronutrient1.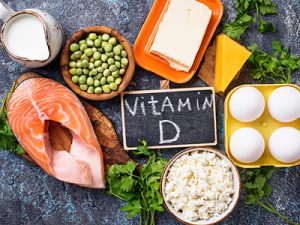 Vitamin D and the skin
There are three sources of vitamin D; sunlight, diet (especially fatty foods like oily fish and dairy produce), and vitamin D supplements. However, it can be difficult to achieve adequate levels of vitamin D through diet and sunlight alone. This is particularly a problem in people with dark skin tones, whilst in comparison, individuals with lighter skin tones can produce up to six times more vitamin D1. So, for some people, supplementation is vital to maintain their health and wellbeing2.
Vitamin D is important for skin health, it helps control inflammation and support healing. It has also been identified as a factor in the prevention and treatment of psoriasis3, and could also be an important element in the fight to control the inflammation and itch of atopic eczema.
Is there a link between Vitamin D and eczema?
Eczema is a very common condition that affects as many as 10%-20% of people across the world4. The cause is not fully understood; however, it is believed to be associated with a combination of our genetics and factors relating to the environment in which we live. We know that Vitamin D helps regulate the immune system and the skin's barrier function. These are both impaired in people with atopic eczema1, so could vitamin D be involved in the cause as well as the treatment of this distressing skin condition?
Research shows that people with atopic eczema are more likely to have insufficient vitamin D, with lower levels of the vitamin being linked with increased frequency and severity of eczema symptoms. Eczema is also more common in regions with higher latitude – where sunlight levels are lower2, and flare-ups can occur in winter months when sun exposure is reduced5.
A recent study in America confirmed a link between vitamin D levels and the risk for developing atopic dermatitis. This study showed that low levels of vitamin D are associated with reports of eczema in the non-Hispanic white population.4 
Vitamin D supplements and the treatment of eczema
Vitamin D helps reduce levels of inflammation and strengthen the skin's barrier function. Many studies have demonstrated promising results when people with eczema are given vitamin D supplementation3. Individuals who had vitamin D supplements had fewer symptoms and signs of eczema, and a significant decrease in skin infections.
The American Vitamin D Council advocates supplementing vitamin D to help manage eczema symptoms, saying: 'Of all the health conditions helped by vitamin D, few respond as well as eczema. Solid scientific evidence supports that statement. In fact, vitamin D's effects on eczema are so robust, if you don't respond, it may not be eczema. It usually takes 2-3 months to respond but this will depend on what vitamin D blood level you achieved5.'
It is important to take a high enough dose of the vitamin to make a difference. The recommended dosage is usually between 5,000 and 15,000 IU per day, but it's not straightforward as an individual's response to supplements can vary enormously. For example, people who are overweight or obese may need a higher dose5. Therefore, it is a good idea to talk to your GP and request a blood test to help determine the best dose for you or your child.5
The good news is that vitamin D supplements can safely be used together with your usual eczema treatments. When applied regularly, an emollient like AproDerm® can both prevent and treat eczema attacks, by restoring the skin's barrier and preventing the entry of irritants and infections. Used alone, or in combination with vitamin D, they can ease itching and reduce the risk of flare-ups6.
References
Mostafa, W. and Hegazy, R. (2019). Vitamin D and the skin: Focus on a complex relationship: A review.
Palmer DJ. Vitamin D and the Development of Atopic Eczema. J Clin Med. 2015;4(5):1036-50. Published 2015 May 20. doi:10.3390/jcm4051036
Park K. Role of micronutrients in skin health and function. Biomol Ther (Seoul). 2015;23(3):207-17.
Wei, J., Jaleel, T., MacLeod, A. and Ji, J. (2019). Inverted U-shaped relationship between vitamin D and ever-reported eczema in US adults.
Vitamin D Council. (2019). Vitamin D and eczema. [online] Available at: https://www.vitamindcouncil.org/health-conditions/eczema/#.XJCi1S2ca1s [Accessed 22 Mar. 2019].
Loden, M. (2003). Role of Topical Emollients and Moisturizers in the Treatment of Dry Skin Barrier Disorders. American Journal of Clinical Dermatology, 4(11), pp.771-788.
We would love to hear from you.
Leave your comments below and post via the Facebook icon to keep up to date with what others are saying too.